Master Mike Beard 7th Dan, Martial Arts Instructor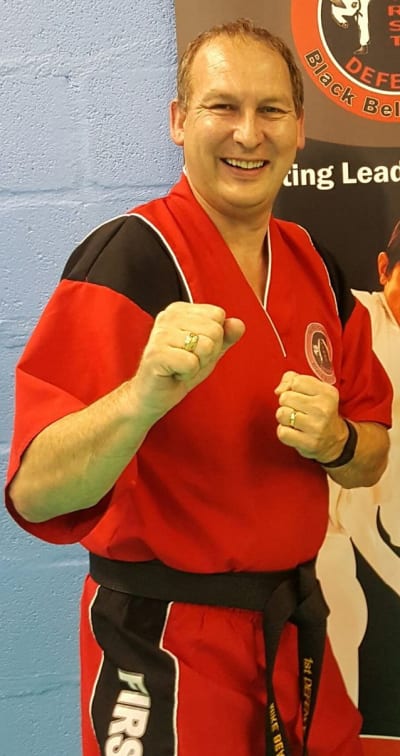 Master Mike Beard 7th Dan
Mike Beard started Training in Taekwondo after suffering with stress at the age of 20 which ended up with him being in Hospital. This is where he decided on a life style change and in October 1989 he took up Taekwondo. Mike Beard states that this was one of the best decisions he has ever made the symptoms he had regarding stress has never returned.
Mike focused on his training and at that time no one from Cornwall was entering the national championships. Mike decided after training for a few years it was time to test himself at National tournament, after coming away with no medals he trained harder and became more determined to achieve a title.
Mike's first medal was in Sparring at the Atlantic Championships where a Silver medal position was gained. The Atlantic tournament was the confidence Mike needed to go on to win a host of other medals and titles. During his completive years Mike won the National Championships 5 times in succession. In 2004, Mike came out of retirement to enter the World Championships as he had never managed to attend this event due to other commitments. The Tournament was one of the largest Mike had attended but after some hard fought battles Mike managed to gain the Gold Meda.
Mike opened up his own club in 1996 and has produced many World, British, English and National champions over the years.
Mike has trained with some of the most prominent Martial Artists from around the World including the following: Grand Master Willie Lim, Grand master Hee Il Cho, Grand Master Rick Moneymaker, Bill Superfoot Wallace, Master Tony Sewell, Mark Weir, Professor Rick Clark, Chris Crudelli, Master Bob Sykes, Hollywood film star Silvio Simac and Shi Yanming to name but a few.
Mike continues to train and network with prominent martial artists to improve his skills and knowledge so that this can be passed onto his own students.
Qualifications
Chief Instructor of First Defence
7th Dan Taekwondo
5th Dan Brithai
International Instructor
Grading Examiner
Qualified Referee
Founder of K.I.K.
First Aid Trained
Enhanced DBS Checked
Official Martial Arts Instructor UK Trainer
Awards and Accreditations
1996 - Instructors Certificate
1998 - Umpires Certificate
2000 - Referees Certificate
2005 - BBIUK dedication and commitment Award
2009 - BBIUK Academy of the Year Award
2009 - Promoted to 6th Dan
2010 - Martial Arts Instructor UK Certified
2013 -

Centre of Excellence Award

2013 - Krav Instructors Certificated

2013 - Official Martial Arts Instructor UK Trainer

2014 -

Centre of Excellence Award

2014 - Martial Arts Hall of Fame Award

on behalf of Martial Arts Illustrated Magazine

2015

-

Centre of Excellence Award

2015 -

Martial Arts Gold Award on behalf of Martial Arts Illustrated Magazine

2016 -

Centre of Excellence Award

2016 - U.K Martial Show Hall Of Fame on

behalf of Martial Arts Illustrated Magazine

2016 - Promoted to 7th Dan Master by Cobra Martial Arts Association
Memberships
Cobra Martial Arts Association
Martial Arts Instructor UK
Martial Arts Standard Agency
EFC Black Belt Schools International
Tournament History
1992 - Southern Open Championships - Bronze
1992 - Atlantic Championships - Silver
1993 - EMAF Championships - Silver
1993 - West of England - Gold
1993 - Atlantic Championships - Silver
1994 - Southwest Championships - Gold
1994 - Atlantic Championships - Gold
1994 - British Team Champion - Gold
1994 - EMAF Championships - Silver
1995 - English Championships - Gold
1995 - Southwest Championships - Gold
1995 - EMAF Championships - Gold
1995 - British Championships - Silver
1995 - Welsh Championships - Silver
1996 - British Championships - Silver
1996 - Midlands Championships - Silver
1997 - British Championships - Silver
1997 - National Championships - Silver
1997 - Elite Team Championships - Bronze
1998 - British Championships - Silver
1999 - National Championships - Gold
2000 - National Championships - Gold
2000 - English Championships - Silver
2001 - National Championships - Gold
2001 - English Championships - Silver
2001 - British Championships - Gold
2002 - National Championships - Gold
2002 - British Championships - Gold
2002 - Midlands Championships - Gold
2002 - English Championships - Silver
2002 - Southwest Championships - Silver
2003 - National Championships - Gold
2003 - British Championships - Gold
2003 - Midlands Championships - Gold
2003 - English Championships - Gold
2003 - Southwest Championships - Silver
2004 - Midlands Championships - Gold
2004 - World Championships - Gold
Awards
1992 - Atlantic Championships - Silver
Falmouth's only state of the art Martial Arts Facility